 Available 5 - 7 Working days
Product Features
Monitor carbon dioxide, Temperature and Relative Humidity
Use non-dispersive infra-red (NDIR) sensor for more accurate monitoring
Three pre-programmed activity level settings (Low/Medium/High)
Traffic Light Visual Indication (Green/Yellow/Red)
Sound Alert: one beep for medium alert; two beeps for high alert
Small portable size and lightweight
Easy-to-use one button setting
10 hours battery life using Lithium-ion rechargeable battery
1-year limited product warranty
Perfect CO2 monitor for schools
Bluetooth functionality
Configurable via

Transmission Risk Air Monitor

mobile app
Honeywell Transmission Risk Air Monitor is available to buy in increments of 1
The
Honeywell Transmission Risk Air Monitor
is an easy-to-deploy, portable device that measures carbon dioxide and features a proprietary risk alerting system based on different activity levels within a room. This allows end-users to proactively improve indoor ventilation.
The Honeywell Transmission Risk Air Monitor (HTRAM) analyses specific air quality conditions and alerts the user when conditions are present that may increase the risk of exposure to airborne viral transmission.
The Honeywell Air Monitor is a cost-effective monitor for use in schools, restaurants, and other small-to-medium-sized buildings that alerts to the potential increase of exposure to airborne transmission risk based on CO2 and activity levels in an indoor area. It is also perfect to use if you are working from home, to make sure you have enough ventilation.
Key Features
The monitor comes with a user manual and USB charging cable. AC adapter sold separately.
Made of alloy and plastic, the monitor's sleek, lightweight design makes it easy to carry for real-time monitoring anywhere.
Red, yellow, and green indicators show at-a-glance the potential airborne transmission risk level of the air you are breathing
As the world returns to in-person activities, engaging in additional measures to help support the health of the public is vital. Classrooms, restaurants, and buildings with outdated HVAC and ventilation systems can foster environments where the risk of airborne virus transmission could increase.* Honeywell proprietary technology that monitors CO2 levels, coupled with user-controlled settings to account for human activity levels in an indoor area, provides users with a portable, cost-effective, and user-friendly solution that alerts to a potential increased risk of airborne viral transmission. Research conducted by scientists at the University of Colorado1 has shown that real-time monitoring of indoor ambient air can provide an indicator of increased risk of airborne viral transmission, utilizing different levels of risk-based factors such as CO2 concentration levels and the type of human activity in the area.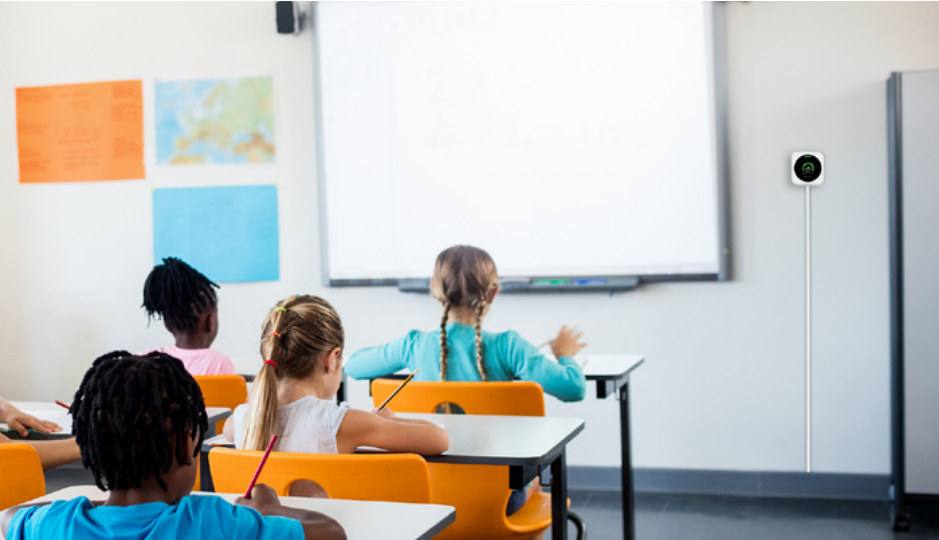 Monitor exposure for students in classrooms
to indicate transmission risk level.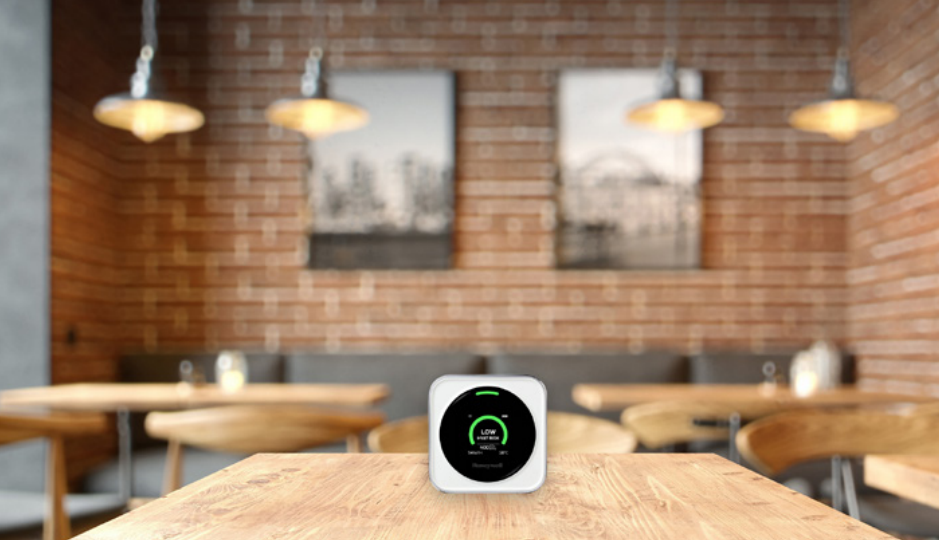 Monitor airborne transmission risk levels in
restaurants to alert of higher-risk situations.
Using this guidance and Honeywell algorithms, we developed risk levels based on common activities and average variables such as room size, number of people present, breathing rate, and duration. The device comes with three pre-programmed indoor activity settings: low activity (movie theatres, libraries, and classrooms), medium activity (restaurants, offices, small clinics), and high activity (gyms, indoor arenas, recreation centres) and is recommended for coverage of 800-1000 square feet. For each setting, the monitor provides indications using a traffic light pattern (green, yellow, or red) and a sound alarm so users can be aware of the potential increase of airborne transmission risk based on detectable CO2 levels.
Device Indication
Indicator Colour
Green
Yellow
Red
Description
Lower airborne transmission risk
Medium airborne transmission risk
Higher airborne transmission risk
Recommended Action
-
- Open windows
- Turn on HVAC fan
- Ventilate room immediately
- Reduce activities
- Move out of room until light changes to green
Alarm
-
One Beep
Two Beeps
Bluetooth Functionality


The HTRAM has Bluetooth functionality. It is possible to
configure the device and view data history through the mobile app.


Additional Information


Characteristic
Parameter
Dimensions (H × W × D)
80 mm × 80 mm × 22 mm [3.1 in × 3.1 in × 0.87 in]
Weight
150 g
Housing materials
Aluminium alloy
Display
TFT
Input voltage
5 V
Input current
1 A
Battery
Lithium-ion rechargeable battery
10-hour battery time
Battery capacity
2,600 mAh
Operating temperature &
humidity
0°C to 50°C, 0% RH to 90% RH
USB port
Micro USB
Alarm Type
Audible- Visual
Sub-Category
Single-Gas
Sensor Type
NDIR
Number of Gas Sensors Included
1
Gas Type
CO2
Certifications - Regional
CE, FCC, IC
Certifications - Performance
CE; FCC
Warranty
1 yr limited warranty
| Sensor Description | Sensor Detection Range |
| --- | --- |
| CO2 (NDIR) | 400 ppm to 2000 ppm |
| Temperature | -20°C to 60°C or -4°F to 140°F |
| Humidity | 0% RH to 100% RH |
Region

SKU

Description

UK

HTRAM-V1-W

Honeywell Transmission Risk Air Monitor-V1 with 3 pre-settings - white

HTRAM-AD-UK

Honeywell Transmission Risk Air Monitor charging/power adapter - UK version

HTRAM-WM-ALL

Honeywell Transmission Risk Air Monitor Wall Mount