Another step in securing effective lightning protection is structural lightning protection. This term describes what is most readily recognised as a lightning rod system.
Air termination plays a critical role in the lightning protection system, capturing the fullness of the lightning strike current and channeling this current safely to the conductor network.
Through use of air rods, raised conductor or mesh, a Lightning Protection System designer can achieve appropriate positioning of the air termination in line with the three methods proposed by IEC/BS EN 62305, namely:
The rolling sphere method
The protective angle method
The mesh method
Complete protection against lightning strikes with Furse air termination
Furse's air rods are manufactured from highly-conductive, hard-drawn copper or aluminium, and provide an excellent, durable strike point for lightning.
Our extensive range of air rod bases, conductor fasteners, and clamps are made of high-quality copper or aluminium alloys, ensuring that the air termination system maintains a high degree of conductivity. It also ensures that these components are durable enough to last a long period of time on exposed roof lines.
All of these components are linked with our copper or aluminium conductors, which offer a low-resistance path for lightning current to travel from the striking point to the ground safely.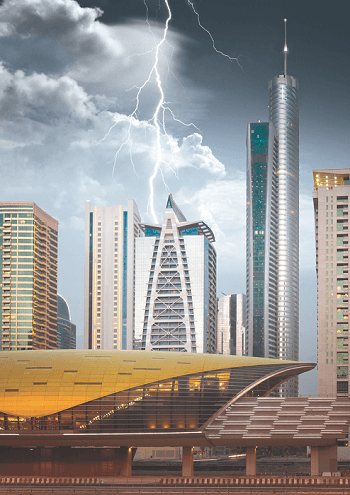 ---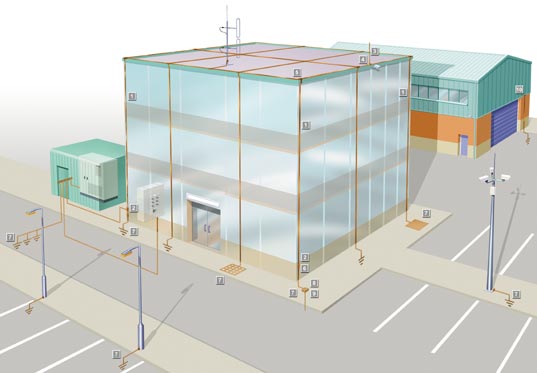 Air Termination Network Example
This illustration is designed to demonstrate the main aspects and individual components of a structural lightning protection system.
It is not intended to represent an actual scheme conforming to a particular code of practice and is not to scale.